As you browse business websites scattered around the internet, you may have noticed that many include photos of their key owners or even employees. These staff photos often appear on the "About Us" or "Meet The Team" pages on websites. There are many opinions over whether including staff images on a business website does have a positive impact. Let's dive into some ideas on the subject.
We'd love to tell you a simple, straightforward answer. But like many things in life, we can't. It's just not that easy, and there's no "one size fits all" rule.
It really depends on your company brand, industry, and website. For example, a restaurant with high turnover of wait staff and other employees might not want to feature their constant churn of new staff members. But a medical practice or consulting firm might want to highlight their employees to make prospective clients more comfortable and show off their personal side.
Ultimately, the decision to use staff images on your website should be based on what works best for your company and customers. But if you choose to add staff photos, there are a few tips that can help make sure they're effective.
Let's take a look at some of the pros and cons associated with posting images of your staff members on your business website.
Staff Photos on My Business Website – Pros and Cons
Pros of Staff Photos
Make Your Company Relatable: People want to interact with other people, not some faceless corporate entity. You can leverage this through photos on your website: although it may just be an image, seeing another person's face and knowing that they work there makes visitors feel a more human connection to the company. They may feel more comfortable reaching out when they think they know who will be answering their call.
Builds Rapport: Photos help build rapport with your audience, as it gives them an insight into who they'll be dealing with. It can also help to differentiate between members of the team, so people can recognize colleagues they may have met in the past or dealt with on previous occasions.
Develop Brand Identity: Besides making your website more personable, photos can help to develop your brand identity. It's an opportunity to show what kind of company you are and how it operates in the real world. Incorporating images into your website will also make it stand out from others – giving customers a unique experience that they won't find anywhere else.
Strengthen and Build Relationships: Speaking of phone calls, the telephone and email are both incredibly impersonal. People want to know who they're talking to, but remember that the vast majority of people don't want to participate in video conferences. So, photographs can bridge that gap and help build relationships with customers.
Help with Recognition: You know how they say it's a small world out there? It's true. You never know when one of your employees will run into a prospective client or existing customer, perhaps at a conference or just in daily life. If the customer has seen a photo of the employee on your website, they're more likely to make the connection. And connecting with your clients is always a good thing.
Develop Your Brand: If part of your brand is that you are all about your people, including photos of your people is the logical next step. And done right, employee photographs can enhance your brand: whether that's showing your expertise through formal portraits of experts wearing suits, or showing your lighthearted side with fun, casual photographs.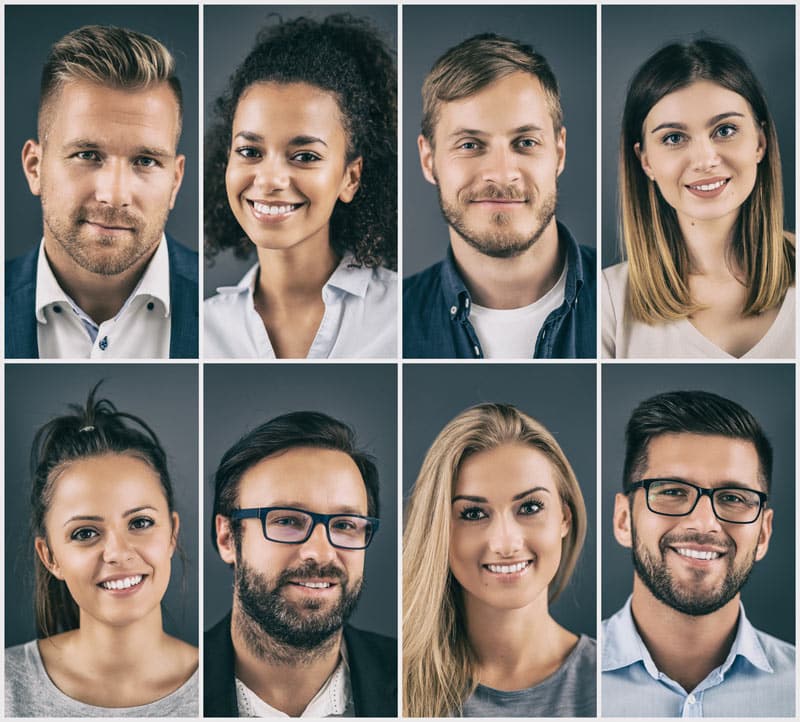 Cons of Staff Photos
Consider the Privacy Implications: You never know who might be looking for your employees, so remember that your page will show up on Google results for their names. It's true that social media has the same problem, but employees have the ability to block specific individuals from seeing their information on those sites. There's no such privacy setting for your website, so anyone Googling their name can find their photograph, company, and any other information included on the page.
It's important to make sure that your staff are comfortable with having their photographs taken and displayed on the website. Make sure they're properly informed of how their photo will be used, where it will be posted, and how long it will stay up.
Employee Turnover Problems: What do you do when an employee quits? This is particularly problematic if you upload a group photo. Do you try to edit or crop them out? Do you leave the photograph up as if nothing happened? Even individual portraits can be a problem if you have to always think about taking pictures down and uploading new ones whenever your staffing situation changes.
Potential Employee Concerns: You will need to collect consent from all of your employees if you want to use their photos. They may not want certain photographs uploaded if they don't think it reflects them well. Or, they may not want any images of them on the internet at all.
Branding Considerations: If your photographs don't match your branding, you could be in trouble. You will have to be very careful that the images' quality and personality match your company brand.
Tips for shooting terrific Staff Photos for your website
Lastly, here are a few well known tips for shooting great looking, effective staff photos that will shine on your website.
If possible, get an experienced Photographer: Whether it's a hired professional external photographer or a team member who has experience in photography. It can make or break your images.
Have your staff plan their outfit: As with any portrait, it's important to ensure a sharp-looking image. Work with your team members to make sure they are wearing clothes that look good and fit the brand/style of your company.
Avoid generic poses: Generic poses can be distracting or boring, so try to help get creative with the poses and expressions.
Encourage team collaboration: Since everyone will be in the same photo, it's a great opportunity to help your team members get comfortable with each other and build chemistry as well as brand identity.
Test shots before taking the final photos: Take some test shots so you can see how things look in the frame and make adjustments as needed. This will help you get the best results with your final images.
Take multiple photos: Don't just take one photo and call it a day. Instead, take several different shots from various angles so that you have plenty to choose from later on.
Use the best possible camera available and use it for every photo. This will ensure you are taking the very best images and best of all they will be consistent across all staff. If possible avoid mobile phones and definitely avoid low light.
Presentation is key. Ensure all staff are properly prepared for the photo shoot and wear their best clothing, makeup (if applicable) and have their hair done. This will not only make every staff member more confident during the photoshoot, but it will also ensure the images come across well online.
Consistency is Key. If possible, try use the one location to keep everything consistent. Set up a tripod and keep the lighting controlled throughout. There is nothing worse than seeing staff images that are so different from each other in terms of quality, lighting and quality. Also ensure all staff are facing the same angle.
Relax and smile. Try ensure a comfortable and relaxing environment is created so that every staff member comes across their photos naturally and with confidence.
Let Sydney's leading Web Design Agency take your business to the next level with a Pixel Fish Small Business Website.
Check out some of our latest Website Design projects and Testimonials.
Further reading:
Why we use WordPress
Creating Website Content that Appeals to Both Scanners and Readers
7 Top Reasons to Choose Elementor for Your Next Website
How to Scale Your WooCommerce Website as Your Business Grows
How To Write The Perfect About Us Page for your business website
Top 10 Ways to Use Promo Codes for your Ecommerce website
Understanding Website Image File Formats: Which should you use?
Top 5 Strategies on How to Price Ecommerce Products