Whilst YouTube sits firmly on top of the world in Internet online video platforms. It can be easy to forget about its main challenger Vimeo, the other big site for permanent video posts. Each video platform offers many advantages, and there's no reason a business can't use both to boost its visibility. Generally speaking, YouTube is wide open to all, whilst Vimeo is a bit more of a gated community. So who wins in the battle for the best online video platform… Vimeo vs Youtube? We will look at both Youtube and Vimeo video sharing platforms, and compare things such as video and audio quality, live streaming, the ability to share videos, weekly upload limits and how they perform for video creators.
Vimeo vs YouTube: Which should you use for your Business?
YouTube's most obvious advantage is visibility. It has a billion users by its own estimate. People do searches and view suggested videos. Networking with other people's channels can easily build up an audience.
Accounts on YouTube are completely free, including business accounts, and there are no limits on how many videos you can upload. Being Completely free creates an amazing entry point for anyone wishing to create a YouTube channel for their videos.
Google isn't biased, of course, but it does own YouTube, which does very well in search results compared to its competitors.
YouTube has excellent tools for promoting your business from a youtube video. An example is "Annotations" which are click-able text in the video, inviting viewers to your site.
For video creators, it's very easy to embed YouTube videos on many blogging and social media websites. WordPress sites can easily embed them without any plugins. Embedded videos don't subject the viewer to video ads.
Live streaming on Youtube is a great way to connect with viewers, which is why it's important for businesses to set up a YouTube channel.
Overall, YouTube has become an important part of the internet landscape and having videos on sites increases visibility and engagement for businesses wishing to reach more customers or clients. It can also help in terms of SEO as videos are indexed by search engines
The Youtube Partner Program gives creators the ability to monetize their videos, giving them a way to make money from their content on YouTube.
The benefits of using Youtube for businesses include increased visibility and reach, improved search engine ranking, increased customer engagement and loyalty, and last but not least, the potential to monetize your video content.
Disadvantages of YouTube
Viewers on the YouTube website have to deal with video ads. They interrupt the video at random points, and many viewers will leave in annoyance.
With Youtube Videos, you're competing with a billion other videos for attention. Most of them have low video quality, giving the impression that YouTube is a dumping ground for anything anyone might shoot. This impression isn't far from reality.
Comments are mostly unmoderated and often ugly. Some people disable comments for their videos to get around this.
Suggested videos can lead to competitors' sites.
Advantages of Vimeo
Vimeo's approach has some clear differences from YouTube's. You have to pay for an account if you use it for business, but you get a higher video quality environment in return. This can be especially helpful in B2B situations. At 170 million monthly viewers, Vimeo certainly isn't small except by comparison to YouTube. So if you are wondering "what is vimeo used for?" we hope to give you some further information.
Unlike youtube Vimeo doesn't run video adverts. Nothing will interrupt your video, so people are likelier to watch it all the way through.
A paid business account offers a lot of value. You can store up to 5 terabytes of video and get a good set of analytic tools. You can customise your channel with your logo and colours.
Privacy settings give you detailed control over who can see your videos. Among other choices, you can password-protect a video or specify which accounts can view it. YouTube gives only public, unlisted, and private options.
You can set up a Portfolio in your account with your branding and domain name.
Vimeo has a reputation for better video quality. It promotes staff picks rather than whatever is getting the most views.
Vimeo provides much flexibility with regard to video and embedder settings. It is also possible to limit embedding to your own web site. Vimeo also provides customization of the website player based on your branding.
Disadvantages of Vimeo
Visibility is lower than YouTube by all measures. It has a smaller audience, fewer views, and lower standing in Google's search results.
You can't accept ads to sponsor your videos.
Vimeo imposes limits on the total amount of storage you can use. How much you get depends on the plan you choose.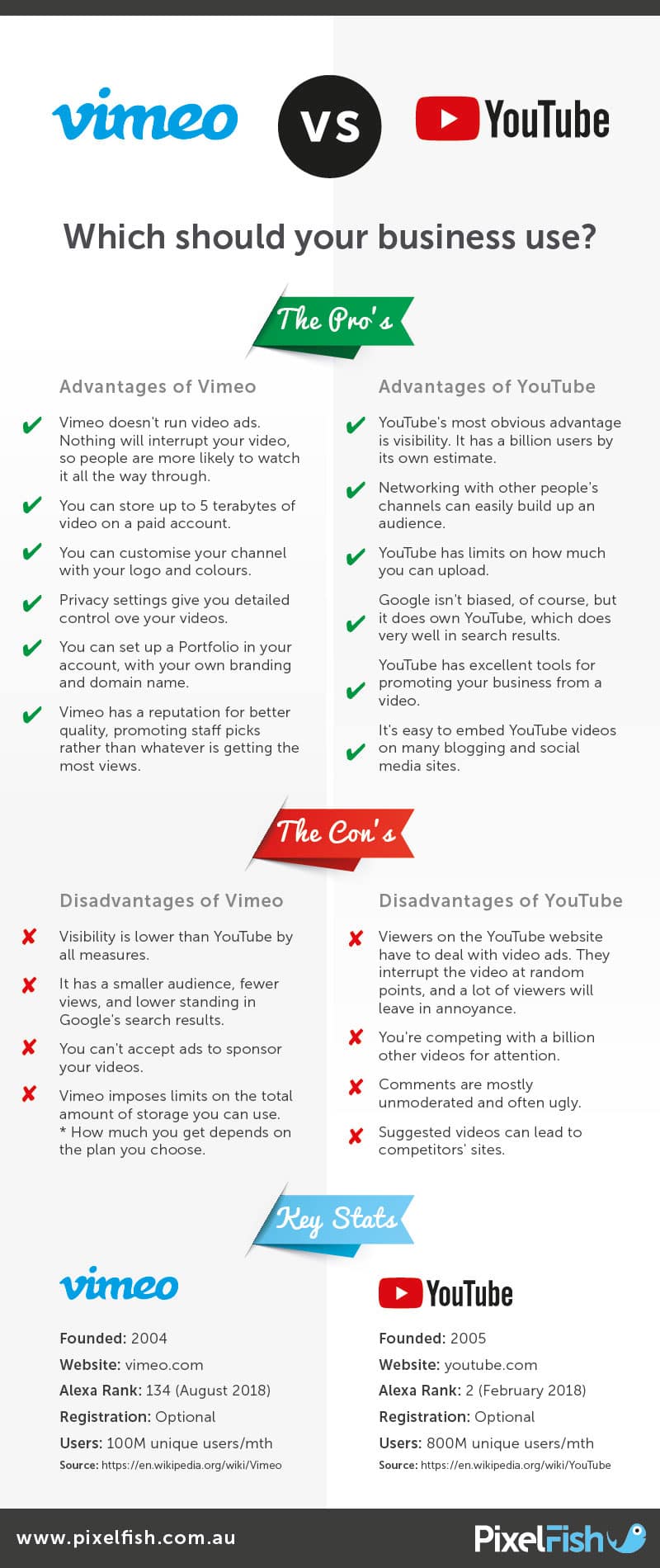 Vimeo Statistics
Vimeo infact has a terrific page on their website that showcases all of the amazing statistical data that you can gather from viewers of your Vimeo videos. You can easily access key metrics such as impressions, plays, finishes, likes, comments and your most popular videos. You can also see where your viewers are watching around the globe and keep track of your other key statistics such as dropouts, skipped sections, etc, over time. Click here to view the Vimeo Statistics Page.

Youtube Statistics
Youtube also can provide you with a range of in-depth data for your Youtube Videos. As with Vimeo, you can easily access key metrics such as impressions, plays, finishes, likes, comments and your most popular videos. This means you can track and review the success of failure of your videos in depth.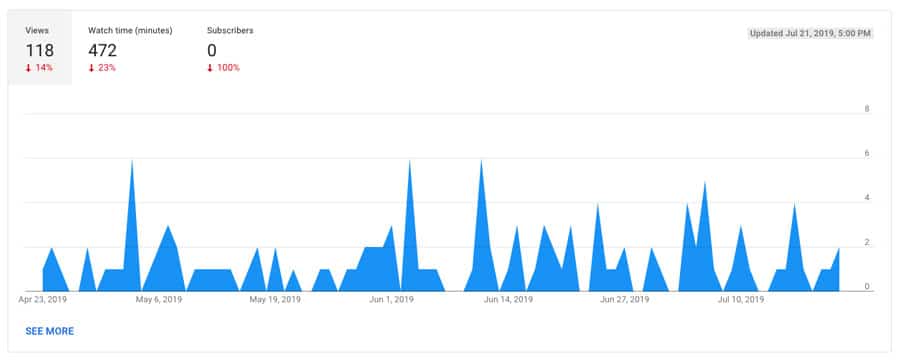 YouTube and Vimeo are the two most visited video sites and some key differences set them apart from one another, as we've discussed. Another similarity is that both YouTube and Vimeo offer free services, but there are distinct differences in each service's premium services.
Upload costs
Vimeo allows viewers watch videos for free, but charges apply when you upload content.
A Vimeo basic account is free, with strict limits on the amount of data you can upload.
Premium Vimeo accounts are priced as follows:
Plus: AU$7 per month billed annually
Pro: AU$20 per month billed annually
Business: AU$50 per month billed annually
Premium: AU$75 per month billed annually 
Viewing costs: Vimeo vs YouTube
Again, Vimeo allows viewers to watch videos for free. While YouTube also lets viewers watch videos for free, if you don't want to endure all the ads, then you'll need to upgrade to YouTube Premium.
YouTube Premium's first month is free and AU$14.99 per month after that.
As a YouTube Premium user, you can play music videos in the background on your phone. At the same time, you use other apps and have access to YouTube Originals (TV series and movies that are YouTube commissioned).
Vimeo offers certain videos on a pay-per-view basis called Video on Demand (VoD). This service allows users to rent, buy or subscribe:
Rent – you can stream the video for a specified period
Buy – you can stream the video for as long as it remains available on Vimeo
Subscribe – this gets you access to everything on the VoD's page, including any future content.
Upload limits
YouTube allows creators to upload videos up to 15 minutes long – a limit you can extend by verifying your Google account. To verify your Google account, all you need to do is click the camera icon in the YouTube app to upload a video, click Next and follow the instructions. Then you'll just need to verify your account with either an automated call or a text sent to your phone.
With a verified Google account, your upload limit will be extended to 12 hours or 128GB (whatever comes first).
Basic Vimeo upload limits have weekly limits for account holders, who can generally upload 500MB per week and can upload no more than 10 videos in 24 hours (uploading a total of 5GB to their account).
In contrast, Vimeo Plus account holders can upload 5GB of video per week, and if you decide to upgrade to a Pro account, you can upload 20GB per week. (The Pro and Plus plans do not set a limit on overall storage space).
Pro Unlimited, Business and Premium accounts have no weekly upload limits and will let you to store 3TB, 5TB and 7TB of data, respectively.
Vimeo vs YouTube: Which supports small businesses best?
One last thing to note before you decide if it's YouTube or Vimeo that fits best with your business' video strategy: do either service support small business better?
Interestingly, the Vimeo CEO, Anjali Sud, emphatically states the online video company is no longer a competitor to YouTube. Wait, what?
Now, it may not seem like it, but this is something to consider if you are a small business owner.
Sud continues, "Today, we do not view YouTube as a competitor. We really think of ourselves as a software-as-a-services company like a Slack, a Dropbox, a Zoom," Sud said. The three publicly traded business software companies offer storage and collaboration tools for businesses. Youtube does offer unlimited storage.
Sud realises that Vimeo was a "viewing destination" like YouTube in recent history, or as she describes it, "We were sort of the more indie, higher end, more artistic version of YouTube," she in a recent interview with CNN Business.
Vimeo was founded back in 2004 and is now enjoying incredible growth in the digital video through its video sharing, live event streaming, marketing and analytics tools. 2017 saw Vimeo abandon plans for its own subscription video on demand service and moved away from original content, which YouTube was embracing at the time.
Unlike Google's (GOOGL), YouTube and other sites, Vimeo does not make money from advertising, so traffic, viewing hours and other metrics are not a concern. Sud said that Vimeo were focussed on helping content creators make money off their videos, and now Vimeo is turning its focus to helping small businesses "to market and communicate with video for social media". And this is great news for small business owners.
Small business online video strategy creation
"Small organisations desperately need to communicate with video but they have no idea how to do it. They're not a filmmaker. They're not an agency. They're trying to grow their business," Sud continued, "but in five years, every small business should have a video strategy."
With helping small businesses in mind, Vimeo has acquired Magisto, an artificial intelligence start-up offering editing and production tools for shorter videos.
Sud said that today, "people are building their own online video networks. They are creating thriving businesses online to go direct to their audience and customers. You don't have to be a Hollywood studio, Netflix, Hulu, or Amazon to have your own channel."
It is an exciting move for Vimeo, which launched a stock footage marketplace of online videos (think along the lines of Getty Images but for videos) for small businesses to use as marketing videos. Helping small businesses communicate via video through social media channels is where Vimeo's head is at right now, so expect to see more tools and support for the creation of online marketing videos for small businesses available with Vimeo shortly.
Key Elements of a Successful Youtube Channel
Creating a successful Youtube channel requires careful consideration of many factors, including the type and quality of content you provide, how you engage your audience, how often you promote your videos, and more. It would be wise to research some successful channels in the same niche as yours to get ideas on what works well.
Should your business use both Youtube in combination with Vimeo?
Yes, if your business wants to maximize its reach and engagement, then it is beneficial to use both. It is good to know that Youtube has the largest user base of any online video platform, so it is wise to focus on creating content specifically for that platform. Meanwhile, Vimeo can be used to supplement your Youtube efforts by providing a more niche audience. Additionally, since Vimeo is an ad-free platform, it can be used to create higher quality content that is free from the distraction of advertising. Ultimately, utilizing both can help you to reach a larger and more engaged audience while allowing you to create content tailored for each platform.
Vimeo vs Youtube: Which way should you go?
Nothing stops you from using both popular video hosting platforms, depending on your aims for each video. YouTube is generally the better way to go if your main aim is to reach the largest audience. Vimeo's advantages stand out when you have a targeted audience and can reach it directly. If you want the best appearance and are willing to do all the work of promotion, or if you want a video site that doesn't have the YouTube look, that's the best time to go with Vimeo.
Perhaps the good idea is to create a free account with both Vimeo and Youtube and play around with each and see which platform (or both) best suits the aims of your business.
Finally, here are some key statistics you may find interesting…
Vimeo
Founded: 2004
Website: vimeo.com
Alexa Rank: 129 (July 2019)
Registration: Optional
Users: 100M unique users/mth
Subsidiaries Livestream
Did you Know? Vimeo in 2007 was the first video sharing site to support high-definition video.
YouTube
Founded: 2005
Website: youtube.com
Alexa Rank: 2 (July 2019)
Registration: Optional (not required to watch most videos; required for certain tasks such as uploading videos, viewing flagged (18+) videos, creating playlists, liking or disliking videos and posting comments)
Users: 800M unique users/mth
Parent Company: Google
Products: YouTube Music and YouTube TV
Did you Know? There were more than 400 hours of video content uploaded to YouTube every minute.
Both can provide your business with excellent video content hosting solutions
Whether you're looking to launch a new video marketing campaign, share videos from your company parties or simply host an online portfolio of your work, both are great options for businesses. With 800 million unique users each month, YouTube can help give your business the visibility it needs to reach potential customers all over the world. Meanwhile, Vimeo boasts some of the highest quality video hosting in the world, with no ads or suggested content to distract viewers. Both products also offer advanced features such as analytics and detailed reports on how your videos are performing with audiences.
Be sure to consider all your options before choosing a platform!
Alternative video platforms to Youtube and Vimeo
Alternative video platforms to Youtube and Vimeo include platforms such as Wistia and Brightcove.
Wistia is an excellent option for businesses who are looking to build relationships with their customers through video by offering metrics like heat maps and insights into viewer behaviors.
Brightcove is a great solution for larger enterprises who need more advanced features such as interactive experiences, monetization options and secure delivery
Search Engine Optimization
According to sources Google could have prioritized video results over competitors such as Vimeo. If you want to make sure you've got the best search results you want, you may consider submitting your video to YouTube.
Armed with an amazing video, Pixel Fish can help your business to achieve a more effective website presence. Please contact us to learn more.
Keen to read more of our blogs on Videos? Here are a few.
10 Common Website Video Mistakes To Avoid
Top 10 Ways for Using Video on Your Website
How to create a great promotional video for your business website
How to Set Up A YouTube Channel For Your Business
* This post was originally published in September 2019 and has been completely revamped and updated for accuracy and relevance.
Let Sydney's leading Web Design Agency take your business to the next level with a Pixel Fish Small Business Website.
Check out some of our latest Website Design projects.
Top 8 Advanced WordPress Features and Plugins to Beat Your Competition
Yoast SEO Premium vs Free Yoast Plugin