The world first got to know DIVI in December 2013, and it has very quickly become the 'go-to' theme for WordPress and Web Design enthusiasts worldwide. Let's explore 11 of the Best Divi WordPress Theme features you should know.
DIVI has built a cult-like following and with it's the latest release, designers around the world are salivating at some of its new features. Literally, ANYTHING is possible with DIVI and to stand out of the crowd the emphasis of good design has never been more important.
Here are 11 of the very Best Divi WordPress Theme features you should know.
11 of the Best Divi WordPress Theme features
Increased usability
Global Modules & Settings
Full-Width Functionality
New Footer Layouts & Widget Styling
Advanced Module Design Settings
Increased Layout Possibilities
Background & Border Options
Typography options
Introducing the DIVI Library
DIVI Builder for Posts
WooCommerce shop ready to go!
1. Increased usability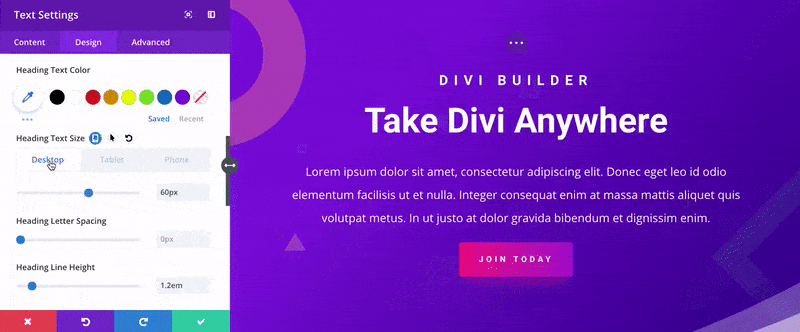 With the latest release of DIVI by Elegant Themes came a great improvement to user experience. The release was based on saving time and removing unnecessary steps in the editing process.
Creating more similarities between standard computer functions and the DIVI Theme has been the main feature when improving the user experience. The introduction of the right mouse click was the first stand out feature that will speed up your editing. Right-clicking on any section, row, or module within the DIVI builder will now present you with a list of quick functions such as copy & paste or disabling modules to be seen on the front end of your website.
Another game changer with DIVI's new release is the live preview function. Gone are the days of hitting update on your website and checking the live front end to see if you have made the right style decision. This quick view window gives you a section preview of what you have been editing and allows you to make faster decisions when designing.
Within this preview function is a secondary element that lets you not only preview what your building but check out the preview on different device screen sizes. Huge time saver!
Every element that has been added to the new DIVI Theme release has had the end user in mind and will transform how a designer builds websites and how a user can edit them. It has closed the gab between the designer and the client by allowing the designer to lock down sections and simplify the DIVI Theme builder to reduce confusion when editing.
2. Global Modules & Settings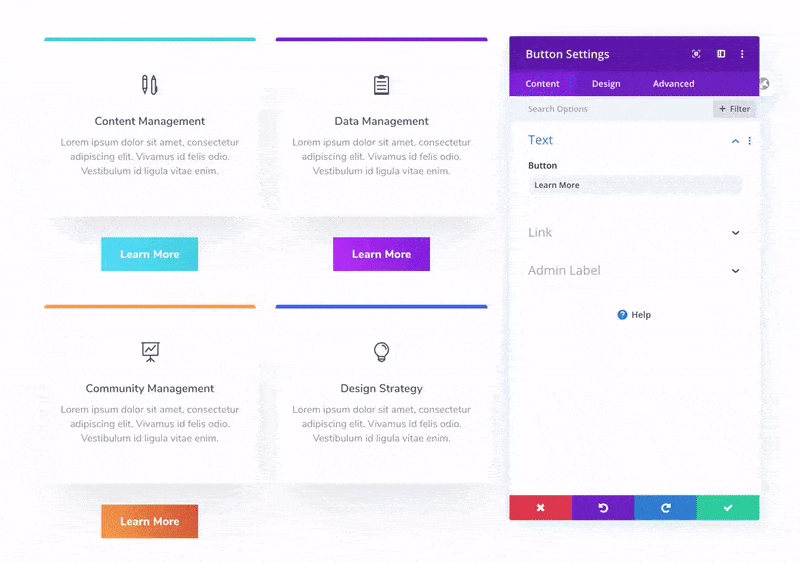 Call to actions (or CTA's as we call it in the design community) are a must have the feature on a website if you want to guide your users to get in touch. But creating or editing these on every page of your site can be very time consuming! DIVI Theme global modules have eliminated this problem and streamlined the website build. Now being able to save rows, modules and even styling settings allows you to place these throughout your website. Any edits done to a global element will be performed throughout the rest of the similar modules. The Sync settings function allows you to load in styling settings that will create similar typography styles, button styles and background colours.
Keep this feature in mind next time you place in a core CTA in your website or you want to highlight a point of different your business wants to showcase.
3. Full-Width Functionality

Full width websites are trending at the moment and DIVI's new functionality gives you a blank canvas to create a stand out modern website. Picture starting with a full width header filling the screen with amazing high quality images that showcases your business, then scrolling into 3 blurb modules that sum up your offerings and finishing on a full width project gallery of your work, this is the perfect example of how you can capture your audiences attention using DIVI's new stylish design features.
Anyone and everyone can use DIVI Theme but making it look good is a different story. Adding this full width functionality, high-resolution images, Photoshop skills and a killer designer will ensure you're onto a winner.
4. New Footer Layouts & Widget Styling
Customising your footer layout and styling has given DIVI a strong point of difference. The introduction of 8 new footer column layouts has allowed you to create a website that suits you. Your footer background colour, website text styles, and overall colour scheme of your site all influence how you should style your footer text styles. The DIVI builder has put these settings back in your hands with a new set of widget text style settings.
5. Advanced Module Design Settings
Don't know how to code or understand CSS? With DIVI that's not a problem, you can use the new advanced design settings to change colours, typefaces, sizes and padding throughout your website.  With so many settings now available you can personalise every element and don't need to go back to your web designer for every change required. Try testing out these settings and previewing them with the quick preview function on your DIVI site to see how flexible this theme has become.
6. Increased Layout Possibilities
There are limitless ways to combine colours, fonts, text styles, and layouts options when it comes DIVI. Presenting you with a blank canvas, this theme isn't like others as it relies on you to piece together rows, columns and modules to transform it into a unique stand out website. Even the menu and navigation comes with numerous possibilities for you to style. Now you have control over your logos height, position within the menu and even if its placed on coloured or transparent background. You can decide whether you have a fixed navigation or even hiding it all together until the user scrolls, every element is in your hands!
7. Background & Border Options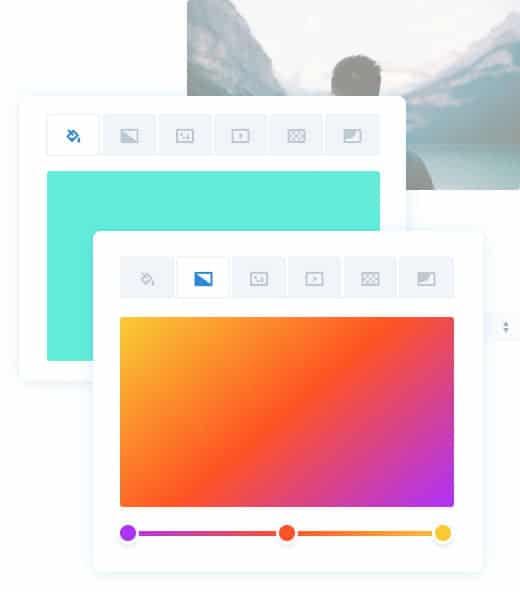 Previous the DIVI builder gave you the option to add background colours to rows and sections but this update has taken it one step further. You now have complete control over the column backgrounds as well. Adding in colours, images or even videos can help you achieve really cool effects behind your information.
Along with this feature comes the new column height standardisation option which help prevent uneven column heights and placing in unwanted content to fill in space. Borders can now be added to help your content stand off  image backgrounds without covering them or even just as a simple way to frame information.
8.Typography options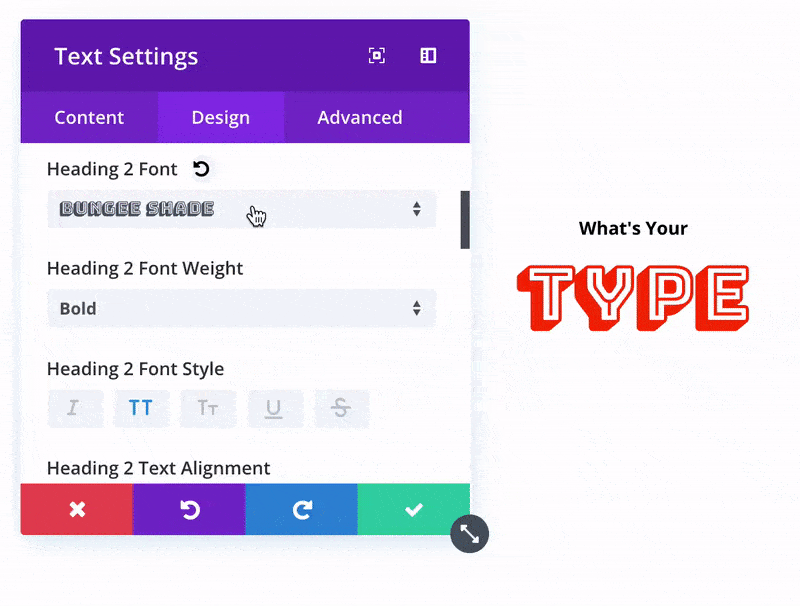 Typography can really help the appearance of a website and styling it used to be hard. But not any more! No coding or heading settings are needed to change the font, colour, size, weight, line height, spacing of your text. Incorporating this design element to your website can transform a simple block of text into something your audience will want to read.
9. Introducing the DIVI Builder Library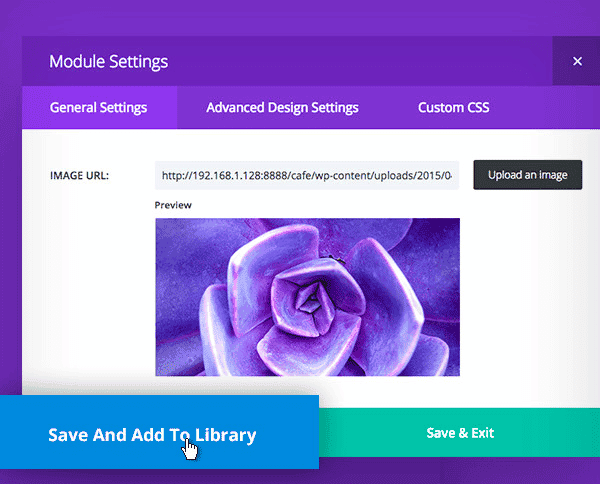 The DIVI Library is one of the highlights of this update. It is now your website hub, giving you a place to save your modules, sections, rows and even entire layouts. Then add these into any page as your build to save time and keep things consistent.
10. DIVI Builder for posts
With blogging becoming so big in the online world, having a point of difference and giving people a reason to read your posts is becoming extremely important.
Now your can create story like blog posts that flow between images and content. Using the DIVI builder in blog posts can help you create stunning layouts and display your post title and featured image in a more creative way.
Click here to check out some of the Elegant Theme live post demo to see how it's done!
11. WooCommerce shop ready to go!
Elegant themes DIVI theme is out of the box ready for you to integrate your WooCommerce online store and works seamlessly with the stylish DIVI design. Having a theme that is WooCommerce compatible means there will be no coding to get your store going and transform it into a modern selling tool.
Click here to see a WooCommerce online store built using The DIVI builder.
Suggested reading: Top 10 reasons to choose WooCommerce for your business
Take your business to the next level with a Divi Pixel Fish Website.
Check out some of our latest Website Design projects.
Further DIVI questions
Is the DIVI fully mobile responsive?
Yes! All DIVI websites are fully mobile responsive and feature responsive layout functionality. The theme is designed to look great on any device and provide a great user experience for visitors browsing your website. It's also easy to customise the design so that it looks perfect on all screen sizes and devices.
Can you use DIVI for a one page website?
Yes! The DIVI theme includes plenty of options for creating single page (or multi-page) websites. You can use the drag and drop elements to easily create a customised one page layout with all the features you need.
Do you have complete control over your website design with DIVI?
Absolutely! The DIVI theme is highly customisable and allows you to build just about any website design and fine tune your graphic design as needed. You can use the drag-and-drop elements to create your own customised layout, or choose from one of the many included pre-made designs.
Does DIVI offer a fast loading speed?
Yes!  The DIVI theme is designed to be lightweight and fast-loading. Additionally, you can use the included caching options to further improve loading speed.
What type of support does DIVI offer?
DIVI offers extensive documentation and support resources, including a detailed knowledge base, tutorials, and a forum with helpful community members. You can also get help from their support team if you can't find the answer to your question.
Can you use Google Fonts with DIVI?
Yes! You can easily use Google Fonts with DIVI. All you need to do is select the font from the library and it will automatically be added to your website. You can also customize the font weight, size and color to suit your needs.
Do I need coding experience for DIVI?
No, you don't need any coding experience to use DIVI. It has a simple drag and drop interface that lets you create stunning websites without writing any code. It also comes with pre-made layouts, design elements, and modules so you can quickly get started.
Can I integrate other plugins with DIVI?
Yes! You can easily integrate third-party plugins with DIVI to add extra features and functionality to your site. This includes forms, ecommerce, membership sites, and more. If you need help setting up any of these plugins, feel free to contact our support team for assistance.
Can I customize my page designs?
Absolutely! DIVI allows you to customize every aspect of your page design, from fonts and colors to animations and more. You can also use the built-in Theme Builder to create custom page layouts with a few clicks.
Is DIVI easy to use?
Yes! DIVI is designed to be simple and intuitive so everyone can build beautiful websites without any hassle.
Further Information
10 Key Signs That Your WordPress Site is Hosting Malware
How Many Digital Marketing Channels Should Your Business Have?
6 Essential Features of Successful E-Commerce Product Photos
The Dos and Don'ts of Designing a Stellar E-Commerce Website
How to Build Multiple Email Lists for Your Business from your Website
Divi WordPress Theme
Top 8 Advanced WordPress Features and Plugins to Beat Your Competition