Ever wanted to make money whilst you sleep? Here are 6 great types of profitable digital products you can create for your business to sell online.
6 profitable digital products you can make and sell online
Images
eBooks
Audio
Video
Design Templates
Software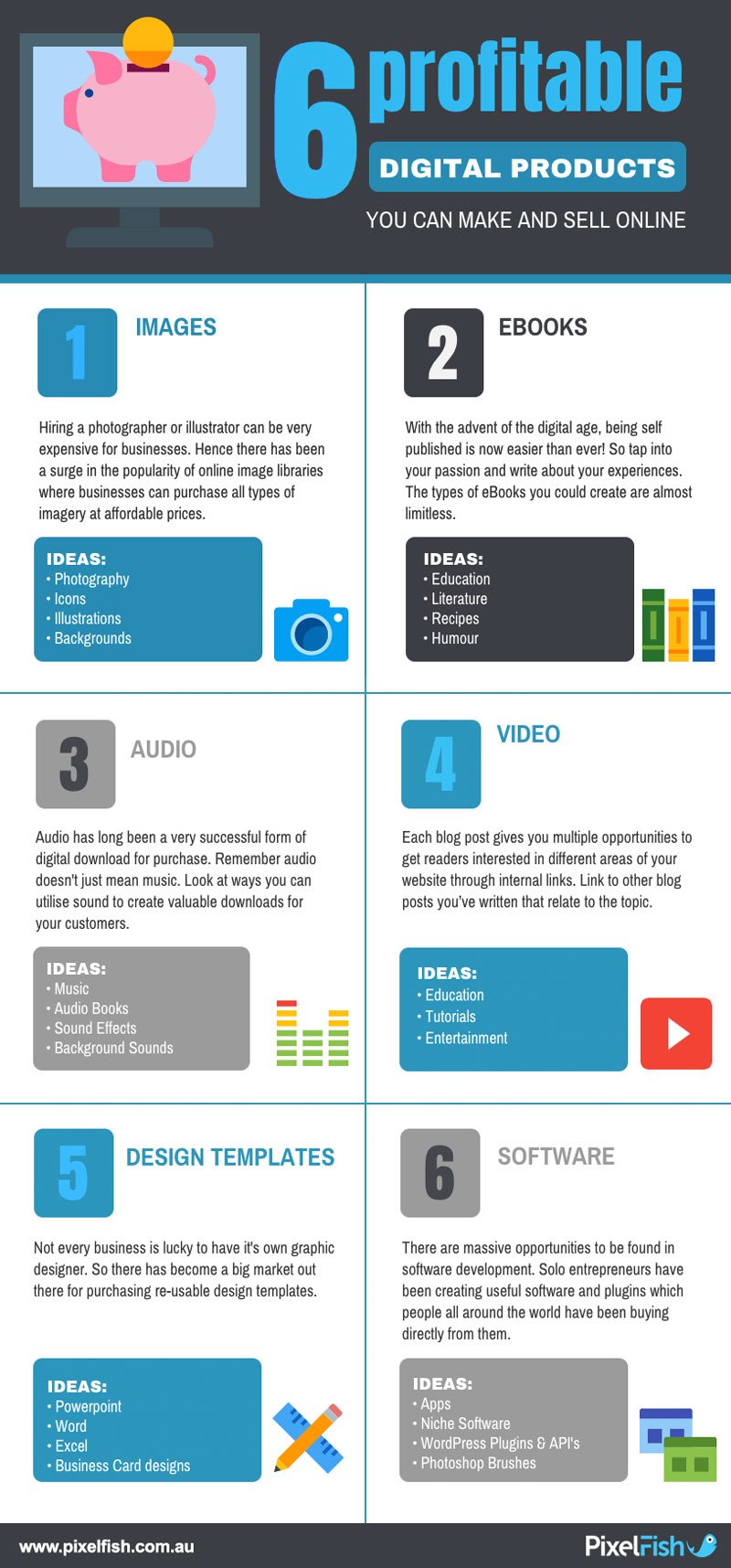 Making money online doesn't necessarily mean you have to be selling physical products. In fact, there is much opportunity to be found in selling downloadable 'virtual products'.
Here we have compiled the top 6 profitable digital products you can make and sell online for your business.
6 profitable digital products you can make and sell online
1. Images
As they say 'a picture tells a thousand words'. Online image platforms such as Getty Images and iStock have shown there clearly is much money to be made from selling imagery online.
Hiring a photographer or illustrator can be very expensive for businesses. Hence there has been a surge in the popularity of online image libraries where businesses can purchase all types of imagery at affordable prices.
Here are a few examples of what you could sell:
Photography (Creative Images, Editorial Photos, Royalty Free etc)
Icons (Web icons, print icons)
Illustrations (Vector – for web use and print use)
Backgrounds and logo types (For use in graphic design)
2. eBooks
With the advent of the digital age, being self published is now easier than ever!
So tap into your passion and write about your experiences. The types of eBooks you could create are almost limitless.
Here are just a few ideas to get you started
Education (Online Courses, DIY guides, Strategy orientated)
Literature (Novels, Fiction, True stories)
Recipes
Humour (Cartoons, Jokes)
3. Audio
Audio has long been a very successful form of digital download for purchase. Apple have made billions from their iTunes over the years. Perhaps it's time for you to do the same?
Remember audio doesn't just mean music. Look at ways you can utilise sound to create valuable downloads for your customers.
Music (Songs, Albums, Live concerts)
Audio Books
Sound Effects (For use in commercials etc)
Background sounds (White noise, rain falling etc)
4. Video
YouTube has really revolutionised the way we access and interact with online video. And with the increase over the years on download speeds, video is playing a bigger and bigger role in our online experiences.
HD video cameras are very affordable nowadays as well, so why not get your hands on one and start creating some great video content to offer your audience!
Here are a few ideas
Education (Video Classes, Demonstrations)
Tutorials (How to videos)
Entertainment (Short films, Comedy etc)
5. Design Templates
Not every business is lucky to have it's own graphic designer. So there has become a big market out there for purchasing re-usable design templates.
Graphic Designers can offer a range of pre-made design templates for businesses such as:
Word
Excel
Business Card designs
Letterhead and stationery designs
6. Software
Ok.. this may only be appropriate for the very tech minded. But there are massive opportunities to be found in software development. The last few years has seen a rise in the silo tech developers.
Solo entrepreneurs have been creating useful software and plugins which people all around the world have been buying directly from them.
Here are a few examples:
Apps (iPhone, Android)
Niche Software
WordPress Plugins
Photoshop Brushes
API's
As you can see there are many ways you could expand your business offerings to include profitable digital products for sale. You may find you need to offer a few 'freebies' to get the ball rolling.
All the best!
Take your online store business to the next level with a Pixel Fish Ecommerce Website.
Further Information
Why Selling via Your E-Commerce Website is Better than a Marketplace
Using Analytics to Prove Your Marketing Strategy ROI
How to Build a Perfect E-Commerce Product Page
10 Ways to promote your business online during the COVID
Top 10 Tips for Conducting an Effective Video Meeting