Website Login
Step 1:
To log in to your Pixel Fish website, make sure your computer / device is connected to the internet.  Once your successfully connected to the internet, open an internet browser (IE, Google Chrome, Firefox, Safari) and in the URL address bar type in your full domain name followed by /pfclient

Example: www.yourdomain.com.au/pfclient
Step 2:
Pixelfish has supplied you with your very own username & password to log in to your website.
Simply enter your username & password into the fields labeled "Username" & "Password" respectively.
Remember the fields are case-sensitive and if it doesn't work the first time please make sure your username & password is correct.
Step 3:
Once you entered the correct details, click on the "Log In " button, or hit the "Enter" key on your keyboard.
 Note: If your are using a private computer or device, you can select the check box labeled "Remember Me". By doing this the system will remember your log in credentials the next time you log in.
Learn your Dashboard
Once you've logged in to your website, you can edit all content by following the steps below. If your having troubles logging in to your website, follow and repeat the instructions above.
The DASHBOARD tab is the 'back-end' or private area of your website. This is where you'll be able to edit and add content to your website. On the left hand is your menu. This is where you can access the different sections of your website to edit.
Viewing the 'front-end'

To view the 'front-end' or public area of your website, simply hold down the CONTROL key (PC users) or COMMAND key (MAC user) and click on your Business Name on the top left hand corner. This will open up your website in a new tab within your internet browser. To view the changes you have made in the back-end, simply select hit refresh to load the content in the new tab.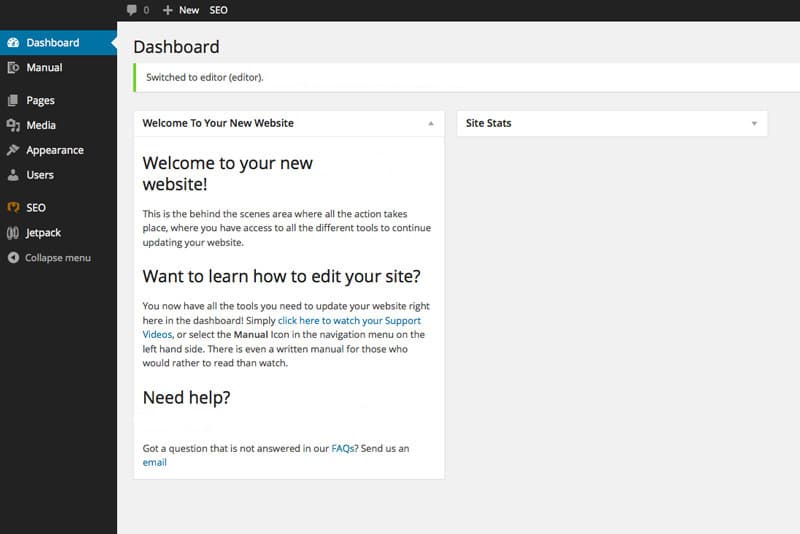 The MANUAL tab is where all your training videos and manuals are kept to help you get the most out of your Pixelfish Website. You can also learn more about the Training Videos in our support hub.

The PAGES tab is where your Home, Services and Contact pages can be edited. This is also where new pages can be added to your website.

The MEDIA tab is the storage location all of your media. Your media can include images, PDF's, Word & XLS documents. You can upload you media either here in the MEDIA area on directly into your pages.

The APPEARANCE tab is where you can edit your Menu and Widgets within your website.

The USERS tab is where you can create and manage the different users for your website. These can be for people within your business framework to log in and assist with editing/adding content to your website

We have setup basic SEO for your website but in this tab you can edit your SEO information to improve your performance on search engines such as Google and Yahoo.